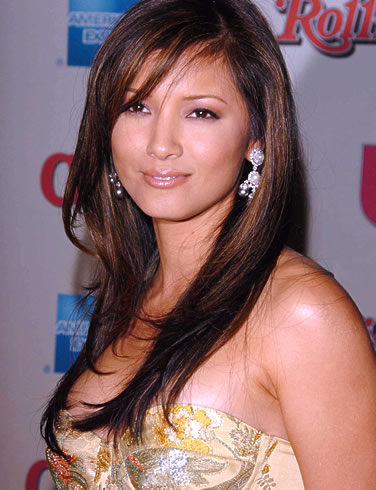 Kelly Hu est une actrice et ex-mannequin américaine née le 13 février 1968 à Honolulu, Hawaï, États-Unis, fille d'Herbert et Juanita. Elle à un frère, Glenn, lieutenant-colonel dans l'US Army.
Biographie
Ses origines sont chinoises, hawaïennes et anglaises. Elle a toujours été intéressée par le chant et la danse. Elle est également férue d'arts martiaux depuis sa plus tendre enfance.
Elle a étudié à la Pepperdine University.
Elle se présente au concours de Miss Teen USA en 1985 et devient la première américaine d'origine asiatique à le remporter, bien que sa mère lui ait dit que l'Amérique n'était pas prête à élire une asiatique. Mais durant l'année de son règne, elle n'a le droit de se présenter qu'aux cérémonies liées à ce concours.
Elle travaille ensuite comme mannequin au Japon et en Italie puis, une fois reconnue, commence à jouer dans des publicités.
Elle déménage pour Los Angeles et commence sa carrière d'actrice en 1987. On la voit dans Melrose Place et dans quelques autres séries avant qu'elle ne devienne Miss Hawaii USA en 1993 et participe à la finale de Miss USA.
Elle interprète le Dr Rae Chang dans Sunset Beach pendant six mois en 1997, puis le rôle de Michelle Chan dans la série Nash Bridges (saison 1997-1998) et surtout Pei Pei Grace Chen dans Le Flic de Shanghaï de 1998 à 2000.
On la voit ensuite dans les films Le Roi Scorpion en 2002 et X-Men 2 en 2003. Elle prête sa voix à la jedi Visas Marr dans le jeu vidéo Star Wars: Knights of the Old Republic II: The Sith Lords. En 2007, elle est également présente dans la série In Case of Emergency.
En 2008, elle apparaît dans le clip Yes We Can.
Elle apparaît dans quatre épisodes de la série télévisée Les Experts : Manhattan dans le rôle de l'inspecteur Kaila Maka.
Elle est également présente dans la série télévisée Américaine "The Vampire Diaries" dans le rôle de Pearl.
Elle vit à Brentwood, Los Angeles, Californie où elle est copropriétaire d'un restaurant.
Filmographie
Young Justice: Legacy (2013) (VG) (Annoncé) (voix) .... Jade Nguyen / Cheshire
Phineas and Ferb (2014) (pre-production) (voix) .... Stacy Hirano
They Die by Dawn (2013) (post-production)
The Haumana (2013) (post-production) .... Linda
"Castle" .... Scarlett Jones (1 Episode, 2013)
- Death Gone Crazy (2013) Episode TV .... Scarlett Jones
"Teenage Mutant Ninja Turtles" .... Karai (1 Episode, 2013)
- New Girl in Town (2013) Episode TV (voix) .... Karai
"Phinéas et Ferb" .... Stacy / ... (Episodes, 2007-2012)
... autre titre : "Phineas and Ferb" - USA (titre original)
- For Your Ice Only/Happy New Year! (2012) Episode TV
- Blackout! (2012) Episode TV
- Road to Danville (2012) Episode TV
- When Worlds Collide (2012) Episode TV
- What a Croc!/Ferb TV (2012) Episode TV
(62 plus)
"Arrow" .... China White (Episodes, 2012)
- Vendetta (2012) Episode TV .... China White
- Muse of Fire (2012) Episode TV .... China White
- Honor Thy Father (2012) Episode TV .... China White
"Young Justice" .... Jade Nguyen / ... (Episodes, 2011-2012)
- Satisfaction (2012) Episode TV (voix) .... Paula Crock / Jade Nguyen
- Bloodlines (2012) Episode TV (voix) .... Jade Nguyen / Cheshire / Lian Nguyen-Harper
- Salvage (2012) Episode TV (voix) .... Jade Nguyen / Cheshire
- Usual Suspects (2012) Episode TV (voix) .... Jade Nguyen / Cheshire
- Insecurity (2012) Episode TV (voix) .... Jade Nguyen / Cheshire / Paula Crock
(4 plus)
Sleeping Dogs (2012) (VG) (voix) .... Inspector Jane Teng
"Breakout Kings" .... Kendra Park (1 Episode, 2012)
- SEALd Fate (2012) Episode TV .... Kendra Park
"Facing Kate" .... Lydia (1 Episode, 2012)
... autre titre : "Fairly Legal" - USA (titre original)
- Shine a Light (2012) Episode TV .... Lydia
White Frog (2012) .... May Chung
"Ben 10: Ultimate Alien" .... Mrs. Yamamoto (1 Episode, 2011)
- Inspector #13 (2011) Episode TV (voix) .... Mrs. Yamamoto
"Vampire Diaries" .... Pearl (Episodes, 2010-2011)
... autre titre : "The Vampire Diaries" - USA (titre original)
- Ghost World (2011) Episode TV .... Pearl
- Blood Brothers (2010) Episode TV .... Pearl
- Miss Mystic Falls (2010) Episode TV .... Pearl
- Let the Right One In (2010) Episode TV .... Pearl
- There Goes the Neighborhood (2010) Episode TV .... Pearl
(3 plus)
"Les experts" .... Angie Salinger (1 Episode, 2011)
... autre titre : "CSI: Crime Scene Investigation" - USA (titre original)
... autre titre : "Les experts: Las Vegas" - France (titre promotionnel)
- Bittersweet (2011) Episode TV .... Angie Salinger
Phineas and Ferb the Movie: Across the 2nd Dimension (2011) (TV) (voix) .... Stacy Hirano
"Hawaii 5-0" .... Laura Hills (Episodes, 2010-2011)
... autre titre : "Hawaii Five-0" - USA (titre original)
- Oia'i'o (2011) Episode TV .... Laura Hills
- Po'ipu (2010) Episode TV .... Laura Hills
- Ho'apono (2010) Episode TV .... Laura Hills
Green Lantern: Emerald Knights (2011) (V) (voix) .... Laira
Almost Perfect (2011/I) .... Vanessa Lee
I Know a Woman's Heart (2011) .... Girl in Lotto Commercial
A Mann's World (2011) (TV) .... Lei
Batman: Under the Red Hood (2010) (V) (voix) .... Ms. Li
... autre titre : "Batman & Red Hood: Sous le masque rouge" - France (titre DVD)
"N.C.I.S.: Enquêtes spéciales" .... Lee Wuan Kai (1 Episode, 2009)
... autre titre : "NCIS: Naval Criminal Investigative Service" - USA (titre original)
- Endgame (2009) Episode TV .... Lee Wuan Kai
"NCIS: Los Angeles" .... Lee Wuan Kai (1 Episode, 2009)
- Killshot (2009) Episode TV .... Lee Wuan Kai
"US Marshals" .... Ahn Li / ... (1 Episode, 2009)
... autre titre : "In Plain Sight" - USA (titre original)
- Let's Get It Ahn (2009) Episode TV .... Jane Kwan/Ahn Li
"American wives" .... Jordana Davis (Episodes, 2008-2009)
... autre titre : "Army Wives" - USA (titre original)
- Best Laid Plans (2009) Episode TV .... Jordana Davis
- Last Minute Changes (2008) Episode TV .... Jordana Davis
- Departures, Arrivals (2008) Episode TV .... Jordana Davis
- All in the Family (2008) Episode TV .... Jordana Davis
The Tournament (2009) .... Lai Lai Zhen
... autre titre : "Le tournoi de la mort" - Canada (titre Français)
Terminator Salvation (2009) (VG) (voix) .... Wells / Resistance Soldier
Scooby-Doo and the Samurai Sword (2009) (V) (voix) .... Miyumi/Miss Mirimoto
"The Spectacular Spider-Man" .... Sha Shan Nguyen / ... (Episodes, 2009)
- Opening Night (2009) Episode TV (voix) .... Sha Shan Nguyen / Titania
- Gangland (2009) Episode TV (voix) .... Sha Shan Nguyen
- Probable Cause (2009) Episode TV (voix) .... Sha Shan Nguyen
- Identity Crisis (2009) Episode TV (voix) .... Sha Shan Nguyen
- Growing Pains (2009) Episode TV (voix) .... Sha Shan Nguyen
Ninja Blade (2009) (VG) (voix: version Anglaise) .... Ryoko Kurokawa
Afro Samurai (2009) (VG) (voix) .... Okiku / Osachi
"Numb3rs" .... Alice Chen (1 Episode, 2009)
... autre titre : "La loi des nombres" - Belgique (titre Français)
- Trouble in Chinatown (2009) Episode TV .... Alice Chen
"New York - Unité spéciale" .... Kelly Sun (1 Episode, 2008)
... autre titre : "Law & Order: Special Victims Unit" - USA (titre original)
... autre titre : "La loi & l'ordre - Crimes sexuels" - Canada (titre Français)
- Smut (2008) Episode TV .... Kelly Sun
Funérailles d'enfer (2008) .... Cindy
... autre titre : "Dim Sum Funeral" - Canada (titre original)
Fracture (2008) (VG) (voix)
Command & Conquer: Red Alert 3 (2008) (VG) .... Suki Toyama
Farmhouse (2008) .... Lilith
Dead Space: Downfall (2008) (V) (voix) .... Shen
"Robot Chicken" .... Olive Oyl / ... (Episodes, 2005-2008)
- Adultizzle Swizzle (2008) Episode TV (voix) .... Olive Oyl
- Squaw Bury Shortcake (2007) Episode TV (voix) .... Olive Oyl / Avocat / fille
- Metal Militia (2006) Episode TV (voix) .... Rainbow Brite / Jessica Alba / Young Marion Ravenwood / Daughter
- That Hurts Me (2005) Episode TV (voix) .... Julie Chen/Keira Knightly
- The Sack (2005) Episode TV (voix) .... Olive Oyl
Stiletto (2008/II) .... Detective Hanover
"In Case of Emergency" .... Kelly Lee (Episodes, 2007)
- The Picture (2007) Episode TV .... Kelly Lee
- Disorder in the Court (2007) Episode TV .... Kelly Lee
- Happy Endings (2007) Episode TV .... Kelly Lee
- The Good, the Bad and the Mob (2007) Episode TV .... Kelly Lee
- Your Goose Is Cooked (2007) Episode TV .... Kelly Lee
(8 plus)
Succubus: Hell-Bent (2007) (V) .... Detective Pei
... autre titre : "Succubes" - France (titre DVD)
The Air I Breathe (2007) .... Jiyoung
Shanghai Kiss (2007) .... Micki Yang
"Afro Samurai" .... Okiku (1 Episode, 2007)
- Okiku (2007) Episode TV (voix: version Anglaise) .... Okiku
Area 57 (2007) (TV) .... Dr. Annabelle Fermi
"Las Vegas" .... Natalie Ko (1 Episode, 2006)
- Died in Plain Sight (2006) Episode TV .... Natalie Ko
Devil's Den (2006) .... Caitlin
Undoing (2006) .... Vera
Americanese (2006) .... Brenda Nishitani
"Les experts: Manhattan" .... Detective Kaile Maka (Episodes, 2005-2006)
... autre titre : "CSI: NY" - USA (titre original)
- Fare Game (2006) Episode TV .... Detective Kaile Maka
- City of the Dolls (2005) Episode TV .... Detective Kaile Maka
- Til Death Do We Part (2005) Episode TV .... Detective Kaile Maka
- Tri-Borough (2005) Episode TV .... Detective Kaile Maka
Mayday (2005) (TV) .... Sharon Crandall
Underclassman (2005) .... Lisa Brooks
Dark Shadows (2005) (TV) .... Dr. Julia Hoffman
"Threat Matrix" .... Agent Mia Chen (Episodes, 2004)
... autre titre : "Agence Matrix" - France (Version doublée)
- Cambodia (2004) Episode TV .... Agent Mia Chen
- 19 Seconds (2004) Episode TV .... Agent Mia Chen
- Extremist Makeover (2004) Episode TV .... Agent Mia Chen
Star Wars: Knights of the Old Republic II - The Sith Lords (2004) (VG) (voix) .... Visas Marr
Les aventures de Flynn Carson - Le mystère de la lance sacrée (2004) (TV) .... Lana
... autre titre : "The Librarian: Quest for the Spear" - USA (titre original)
... autre titre : "Les aventures de Flynn Carson" - France (titre court)
"Boomtown" .... Rachel Durrel (Episodes, 2003)
- Inadmissible (2003) Episode TV .... Rachel Durrel
- The Love of Money (2003) Episode TV .... Rachel Durrel
X-Men 2 (2003) .... Yuriko Oyama / Lady Deathstrike
... autre titre : "X2" - Canada (titre original)
... autre titre : "X2: X-Men unis" - Canada (titre Français)
En sursis (2003) .... Sona
... autre titre : "Cradle 2 the Grave" - USA (titre original)
... autre titre : "Un pied dans la tombe" - Canada (titre Français)
Le roi scorpion (2002) .... The Sorceress
... autre titre : "The Scorpion King" - USA (titre original)
"Le flic de Shanghai" .... Chen Pei Pei (Episodes, 1998-2000)
... autre titre : "Martial Law" - USA (titre original)
- Final Conflict: Part 2 (2000) Episode TV .... Chen Pei Pei
- Final Conflict: Part 1 (2000) Episode TV .... Chen Pei Pei
- In the Dark (2000) Episode TV .... Chen Pei Pei
- Heartless (2000) Episode TV .... Chen Pei Pei
- The Thrill Is Gone (2000) Episode TV .... Chen Pei Pei
(39 plus)
"Nash Bridges" .... Insp. Michelle Chan / ... (Episodes, 1997-1998)
- Hot Prowler (1998) Episode TV .... Michelle Chan
- Impostors (1998) Episode TV .... Michelle Chan
- High Fall (1998) Episode TV .... Michelle Chan
- Sacraments (1998) Episode TV .... Insp. Michelle Chan
- Touchdown (1998) Episode TV .... (credit only)
(18 plus)
"Malcolm & Eddie" .... Wendy (1 Episode, 1998)
- Car Trouble (1998) Episode TV .... Wendy
Fakin' Da Funk (1997) .... Kwee-Me
"Sunset Beach" .... Rae Chang (Episodes, 1997)
- Episode #1.108 (1997) Episode TV .... Rae Chang
- Episode #1.106 (1997) Episode TV .... Rae Chang
- Episode #1.102 (1997) Episode TV .... Rae Chang
- Episode #1.101 (1997) Episode TV .... Rae Chang
- Episode #1.98 (1997) Episode TV .... Rae Chang
(58 plus)
"Mr. & Mrs. Smith" .... Ms. Jones (1 Episode, 1996)
- The Second Episode (1996) Episode TV .... Ms. Jones
"Pacific Blue" .... Wendy Trang (1 Episode, 1996)
- The Enemy Within (1996) Episode TV .... Wendy Trang
"Waikiki Ouest" .... Dr. Midori (1 Episode, 1996)
... autre titre : "One West Waikiki" - USA (titre original)
- Battle of the Titans (1996) Episode TV .... Dr. Midori
"The Sentinel" .... Christine (1 Episode, 1996)
- Cypher (1996) Episode TV .... Christine
"Murder One" .... Natalie Cheng - Richard's Secretary (Episodes, 1996)
... autre titre : "Murder One: L'affaire Banks" - France (titre de la deuxieme saison)
... autre titre : "Murder One: L'affaire Jessica" - France (titre de la première saison)
... autre titre : "Murder One: L'affaire Latrell" - France (titre de la deuxieme saison)
... autre titre : "Murder One: L'affaire Rooney" - France (titre de la deuxieme saison)
- Chapter Twenty (1996) Episode TV .... Natalie Cheng - Richard's Secretary
- Chapter Nineteen (1996) Episode TV .... Natalie Cheng - Richard's Secretary
Star Command (1996) (TV) .... Ens. Yukiko Fujisaki
Strange Days (1995) .... Anchor Woman
... autre titre : "Ondes de choc" - Canada (titre Français) (titre TV)
"Maybe This Time" .... Jennifer (1 Episode, 1995)
- Please Re-Lease Me (1995) Episode TV .... Jennifer
No Way Back (1995) .... Seiko Kobayashi
... autre titre : "Dilemme sans issue" - Canada (titre Français)
... autre titre : "FBI - Un homme à abattre" - France (titre TV)
"Le rebelle" .... Kathy Maruyama (1 Episode, 1994)
... autre titre : "Renegade" - USA (titre original)
- Black Wind (1994) Episode TV .... Kathy Maruyama
"Melrose Place" .... Andrea (1 Episode, 1994)
... autre titre : "Place Melrose" - Canada (titre Français)
- Parting Glances (1994) Episode TV .... Andrea
"L'homme à la Rolls" .... Dawn (1 Episode, 1994)
... autre titre : "Burke's Law" - USA (titre original)
- Who Killed the Beauty Queen? (1994) Episode TV .... Dawn
L.A.X. 2194 (1994) (TV)
Surf Ninjas (1993) .... Ro-May
... autre titre : "Les fous du surf ninja" - Canada (titre Français) (titre TV)
"Raven" .... Pele (1 Episode, 1993)
- Heat (1993) Episode TV .... Pele
Harley Davidson et l'homme aux santiags (1991) .... Suzie
... autre titre : "Harley Davidson and the Marlboro Man" - USA (titre original)
Les Doors (1991) (comme Kelly Ann Hu) .... Dorothy
... autre titre : "The Doors" - USA (titre original)
"CBS Schoolbreak Special" .... Emily (1 Episode, 1990)
- American Eyes (1990) Episode TV .... Emily
Vendredi 13, l'ultime retour (1989) .... Eva Watanabe
... autre titre : "Friday the 13th Part VIII: Jason Takes Manhattan" - USA (titre original)
... autre titre : "Vendredi 13, chapitre 8: Jason à Manhattan" - Canada (titre Français) (titre video)
"21 Jump Street" .... Kim Van Luy (1 Episode, 1989)
- The Dragon and the Angel (1989) Episode TV .... Kim Van Luy
"Commando Viêt-nam" .... Vietnamese DJ (Episodes, 1989)
... autre titre : "Tour of Duty" - USA (titre original)
... autre titre : "L'enfer du devoir" - France
- Saigon: Part 2 (1989) Episode TV .... Vietnamese DJ
- Saigon: Part 1 (1989) Episode TV (voix) (non crédité) .... Vietnamese DJ
"Tribunal de nuit" .... Kista (Episodes, 1988)
... autre titre : "Night Court" - USA (titre original)
- Danny Got His Gun: Part 2 (1988) Episode TV .... Kista
- Danny Got His Gun: Part 3 (1988) Episode TV .... Kista
"Quoi de neuf, docteur?" .... Melia (Episodes, 1987-1988)
... autre titre : "Growing Pains" - USA (titre original)
- Great Expectations (1988) Episode TV (comme Kelly Ann Hu) .... Melia
- Aloha: Part 1 (1987) Episode TV (comme Kelly Ann Hu) .... Melia
- Aloha: Part 2 (1987) Episode TV (comme Kelly Ann Hu) .... Melia
Sources
: Wikipédia & Imdb